Hi everyone. I hope I find you all well this weekend. It's a bank holiday weekend here in Ireland and thankfully the sun is shining. In normal times, this would be a time when Irish pubs would be gearing up for a busy bustling weekend but due to lockdown measures their doors remain firmly closed. They are the cornerstone of Irish social life and a world famous cultural institution.
They are hugely missed. We miss the gatherings & celebrations. We miss the after work drinks on a Friday. We miss the confidential chats with a friend in a cozy snug. We miss the atmosphere. We miss the craic.
I know many of you were due to make your first trip to Ireland this year and looking forward to experiencing your first Irish pub. We'll be waiting to welcome you as soon as it's safe for us all to be together again. In the meantime, here's our top 10 Irish pubs as voted for by The Irish Store Family. Our team come from all corners of Ireland so our virtual pub crawl takes us on a yet another virtual tour of the country! Hope to see you in one of them for real someday soon. Say safe and well. Slainte!
Our Top 10 Irish Pubs
10. Mc Donnells – Belmullet, Mayo
So first up we're heading west to County Mayo. Mc Donnells pub in Belmullet. It has been a family pub since 1942 when Michael and Elizabeth Mc Donnell took over the premises. Today it is run by Michael's' grandson Pádraig and his wife Marian whose warm welcome and hospitality is legendary. Complete with real turf fire and traditional music at the weekends.
9. Tigh Neachtain – Galway
Next up at number 9 we're heading into neighboring County Galway. Tigh Neachtain stands on the corner of Quay St and Cross St in the City of Tribes and has been serving perfect pints since it opened its doors as a public house in 1894.
8. Dick Macks – Dingle, Kerry
Continuing down the west coast to the Kingdom of Kerry and Dick Mack's pub in Dingle. The pub dates back to 1899 and also incorporates a still operational leather shop! Beautifully preserved with cozy snugs, it has recently become an award winning whiskey bar.
7. Jack Meade's – Waterford
Time to take a trip over to the sunny south east and Jack Meade's bar just outside Waterford city. The bar itself dates back to around 1705 and has been owned by the same family since 1857. Nestled under an old stone bridge, it also boasts an award winning pub garden complete with ducks, donkeys, ponies and goats! A must see on any trip to Waterford.
6. Morrissey's – Abbeyleix, Laois
So at number 6 it's one of Ireland's best preserved and much loved Irish pubs in the heart of the midlands. Morrissey's began life as a grocer shop in 1775. The Morrisey family owned and ran the bar until 2003. The original owner, Edward J. Morrissey was also an undertaker and auctioneer. It is also reported that he sold tickets for the ill-fated Titanic in the bar.
5. Lily Finnegan's-Carlingford, Louth
A jaunt over to Ireland's east coast now to Ireland's smallest county. Lily Finnegan's pub is situated on the Cooley Peninsula just outside the gorgeous village of Carlingford. This hidden gem comes complete with bare flagstone floors, an open fire and genuine old world charm. The perfect resting place after a bracing walk on the peninsula!
4. Hargadon Bros – Sligo
So now it's time to visit one of my personal favorites in my favorite Irish county. Hargadon's dates back to 1868 and stepping inside is like stepping back in time and the welcome is always warm. There's always a great atmosphere here and in 2015, the 150th anniversary of the birth of W.B Yeats, people recited one of his poems at the pub on every single day of the year. I recommend the chowder and a glass of Guinness!
3. The Gravediggers – Glasnevin, Dublin
At number 3 it's the first of only 2 Dublin pubs in our countdown. John Kavanagh's pub is locally know as The Gravediggers due to it's close proximity to the entrance of Glasnvein Cemetery. This Dublin institution has been around since 1833. It has been in the Kavanagh family for 7 generations and has a strict policy of no music, no singing and no TV. This Dublin hidden gem is all the better for it. A true original.
2. The Rusty Mackerel- Teelin, Donegal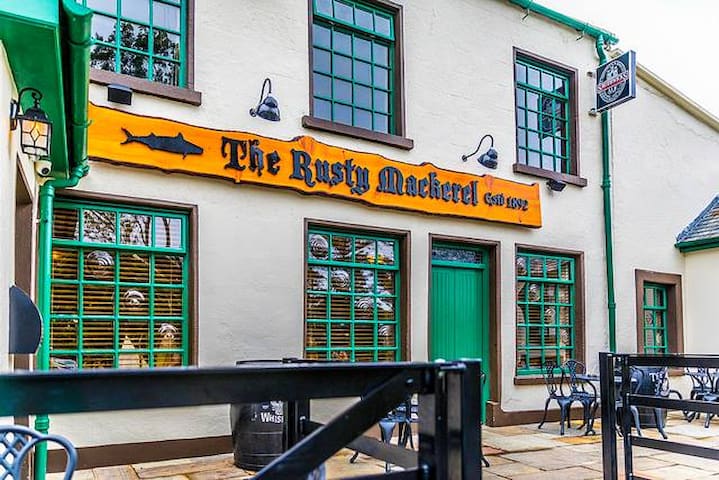 Coming in at number 2 is the Rusty Mackerel in County Donegal. This wonderful pub and restaurant also offers accommodation and is surrounded by the stunning natural beauty of this awesome county. Local must-sees include Sliabh Liag Cliffs, Glencolumbkille Folk Village and one of my favorite beaches in the whole country, Silver Strand at Malinbeg.
1. Kehoe's – Dublin
And taking the number one spot in our top 10 Irish pubs is the inimitable Kehoes in the heart of Dublin city. The Victorian style decor survives since the late 19th century and is beautifully preserved. Feast your eyes on the stained glass mahogany doors and grab yourself a cosy snug to soak up the homely atmosphere. When it comes it Irish pubs, Kehoes ticks all the boxes!
See you on Monday for the next stop on the Virtual Tour of Ireland!
Take care of yourselves and each other,
Slán go fóill!
Lulu